CLICK TO GO BACK
JIM KNIGHT - MP : South Dorset
Jim has had all of the evidence that we are producing on this site given to him.
He has also had a number of face to face meetings with Victims. His solicitor
Andrew Roberts was used as a Buffer to make the decisions for Jim.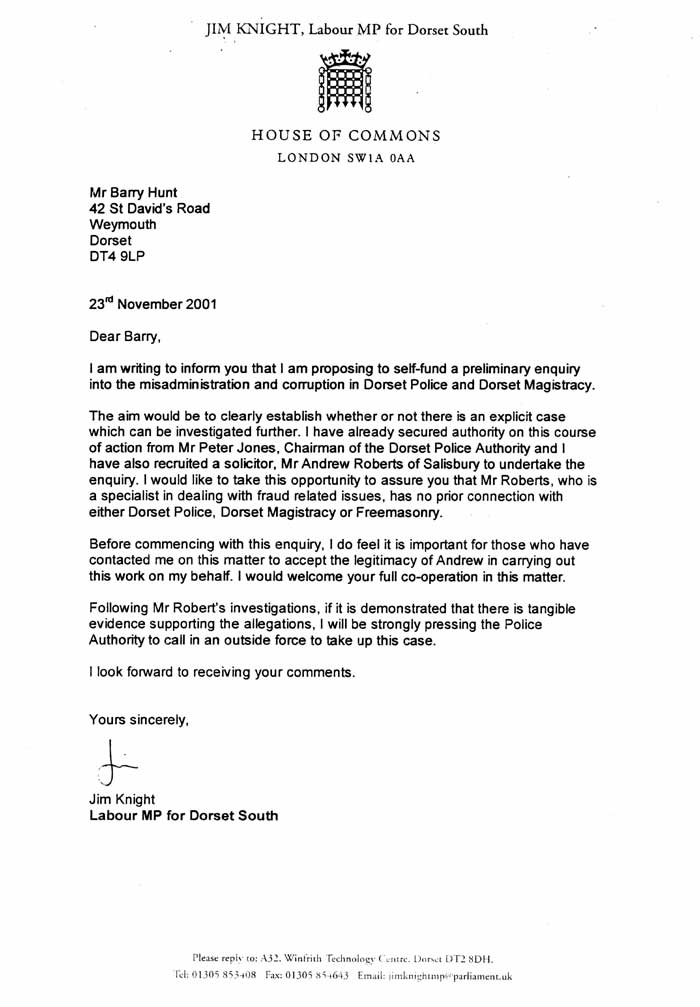 Dulux Jim has White Washed the supposed Investigation, despite hard evidence presented to him
on this website. Jim wrote to Barry Hunt on 15th January 2003, with regard to Mr Hunts allegations
that he was framed on a Motoring Offense, where he alleges Dorset Police Tampered with
Photographic Evidence. However, Despite Dorset Police funding a Liable Action against
Mr Hunt over these allegations, Mr Hunt now makes further Criminal Allegations
Against another Dorset Police Officer, PC 647 Terence Swain. We believe that
Mr Hunt should be able to exercise his Civil Liberties in making complaints
about Criminal Offenses he believes were perpetrated against him.
If not, then nobody could report or make allegations against
Police Officers.

It is not for us to Judge the Substance of these Allegations, However we believe they
Should be properly investigated by an outside force, something the Dorset Authorities
resist at all costs, However it costs the Dorset Rate Payer for the authorities to resist
and obstruct investigations by outside bodies aimed at the true course of Justice.

Click Here To See Dulux Jims letter and Mr Hunts New Allegations