The HMIC know about this website, and ignore the evidence we are publishing showing The Truth, The Whole Truth & Nothing but the Truth.
We have now started to update this website after a long abscence, we shall of course fill in all the gaps over time. The good news is we now have New Media Tools like the Broadband. We can now present our own documentary video clips exposing the misconduct in Dorset Police and Dorset County Council.
Since Dorset Police and Dorset CPS are all urinating in the same pot, using government money to run a criminal justice board, they are using this money for a piss up, they hold award ceremonies at the Marriott Hotel in Bournmouth, where they are eating and drinking and giving each other awards.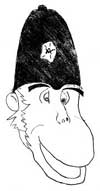 We now have the WOODEN TOP AWARD for PLOD of the WEEK, MONTH & YEAR

Click the jump menus to view!


A Gentleman from Dorset contacted us to Nominate Chief Constable Jane Stitchbury (MRS CAMPBELL) for Queen Woodentop, Due to the amount of times she has had the nomination for Plod of the WEEK, MONTH and YEAR!

Wally Of The Year
Click Here